Some Advice for Well-Endowed Men
- Part 2 -

Technique
Although the vagina is ready for penetration now and the uterus is pulled back, you could still be causing pain by hitting the cervix with your long penis. The most important thing for you to give her pleasure instead of pain is to have a hard erection. When you have a weak erection, you can't control the angle of penetration. All your penis will do is slide in and out like a soft sausage and hit the cervix upon each stroke. A hard erection allows you to direct your penetration to those places that feel good for her.
The best is to enter in an upward angle so that the tip and the upper part of your penis slide over the upper wall of her vagina. The head of your penis skims the cervix without striking it and ends up next to it in the concave part of the back of the vagina. This technique doesn't just spare her from the frontal banging of the uterus but increases her stimulation tenfold by causing friction and pressure at those places that are the most sensitive to her.
Following this method, many women will achieve a very intensive vaginal or uterine orgasm. Especially the parts in the back of the vagina next to the uterus mouth seem to be very responsive to rhythmical thumping of the penis and can build up a powerful energy before releasing it into an earthquake-like orgasm.

Penetration problems because your penis is too thick
If you encounter penetration problems because of a very thick penis then tenting of the vagina is also a major requirement before entering, since it makes the vagina expand a lot in width as well. Depending on the individual woman, this can vary from two to four inches in diameter. The vagina opening usually stays tighter than that, especially if the girl is a bit tense or over excited. Therefore, if you have a very thick penis tell your woman to concentrate on relaxing her vagina muscles.
You should also add plenty of lubrication, unless she is very wet by herself. Don't forget that women are not always as wet as they could or should be. Hormonal changes or emotional distress can have a big influence on it. If because of an unusual large penis head you have a difficult time entering her vagina, then try not to be too erected when inserting your penis. Easier said than done of course if you are excited, but at least squeeze some blood away from the head.

What if your penis is extremely big?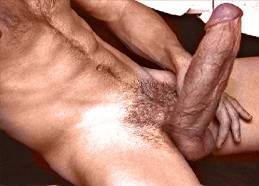 Girls often say they prefer girth to length but if your penis measures ten inches or more in circumference, you know life is tough. You are searching the Internet for help but all you find is a bunch of men complaining that their penises are too small. Nobody gives a damn about your problems. Nobody cares that every day you become more depressed because you haven't lost your virginity yet, since none of the girls so far has been able to take your size. Hell, you would even be happy with a simple blowjob but you haven't found a girl that can take your knob in her mouth. The one that tried had to go to the hospital to fix her dislocated jaw. Nobody cares that all you can get from a girl is a hand job and not even a good one, because both her hands together hardly reach around your shaft. Even masturbating yourself is a labor for you. Keeping an erection for too long makes you dizzy. Women love watching your penis but only because you are a freak show to them. You would do everything you can to shrink your penis, even if it would require taking female hormone pills that grow you bitch-tits, but you know there is nothing you can do. You hate walking around the town because there is no way you can hide your ridiculously big bulge. You have gone swimming only once in your adult life, vowing never to return after you scared those screaming people out of the pool. But when you think back about it, you realize it is better that way. It takes you too long putting on those swimming trunks anyway, obligated to reinforce them with straps around your waist so that the weight of your penis doesn't pull them down. No, nature hasn't been easy on you, and you could do without all the penis size talks.