Men Dislike Small Pussy Lips
On the previous page we talked about why most men prefer women with large labia.
Here are a few more opinions from guys about labia size:
"Women that have no labia minora are disgusting to look at and awful to give cunnilingus to. I really dislike them. For me it's a matter of pussy munching because eating pussy is my passion. It's what really gets me going and afterwards I'm always ready for a marathon love session. But undeveloped labia are such a turn-off that I usually lose my erection fast, that's IF I get one!"

Rejected for her small pussy lips!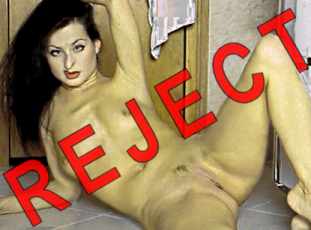 "i don't understand how there are men who can like those "flat" vaginas.. they look so unattractive and unsexy (it's like they are sexually underdeveloped) can't think of anything better than a full set of lips. actually i could never go out with a woman that doesn't have what it takes, no matter how pretty she is.. no thanks!"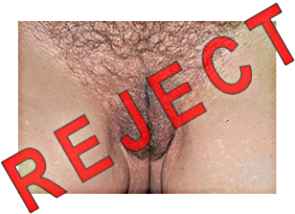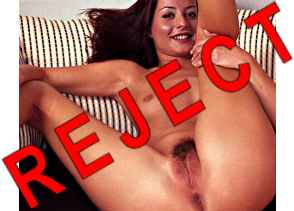 Some comments from women about their labia size:
"Until a few years back I used to be so shy about the way my vagina looked, plump and inner labia longer than outer ones, and a large clitoris too, till my new boyfriend said that it was the thing that attracted him in the first place. I couldn't understand, I always thought it was supposed to be ugly. Now I realize us women were taught to be embarrassed about it, just because it makes our sexuality visible!"

"Lips or no lips, what's the deal? I mean, I don't really have any but what can I do, that's the way I was born. If men like me less for it, so be it. Sure I wish I had a meatier vulva also, but I think the most important for men is that we keep it trimmed and clean, true?"

"My thing down there is bigger than many girls I have seen and it bugged me like crazy. At one point I thought about having them cut-off! labiaplasty they call it. But then from a friend I learned that many men love it, and more and more so, they are just shy to speak about it. Now my current lover is the one that can't stop admiring it, even when I'm wearing panties! Believe me I pamper my thing like crazy (and him too!) making sure it stays smoooth and silky."

Penis Size versus Vulva Size
The essential difference between the penis size issue and the vulva size one is that for vulvas it is purely a matter of psychological (plus visual and oral) pleasure. Big labia don't do much to physically enhance the pleasure for the man during intercourse, except maybe on the outwards stroke when they tend to clench more around a penis just like the lips of a mouth. Nonetheless, women with larger inner labia seem to be more likely to get clitoral orgasms from penetration alone because their labia pull more on the clitoral hood.
In the end it is not just men anymore who worry about the size of their genitals. In fact big lips and clitorises are becoming so popular that women start to pump them up, using vacuum devices just as some men have been using penis pumps for a long time. Lesbians, who are often more open about their sexuality than heterosexual women, have practiced this for years. Just like men they like to give oral sex to their girlfriends.
Girls with small labia start even attaching weights to them so that they lengthen to a normal size. This is nothing new. In some countries, it is an old tradition to hang weights from the girls' labia to grow them longer. Men find their long lips attractive and a "sexual delicacy". In Japan they even call these the "winged butterfly".

Some men love small labia and hairy vaginas
It is obvious that shaven pussies are an advantage to oral sex and visual pleasure but some men still like their women hairy. They prefer it because it is "natural" and "normal", which is a silly reason. Why not stop shaving our beards and let women stop shaving their legs and armpits as well. Often these are the same people who only wash themselves once or twice a week, not because of a lack of water but because it is "better for your skin". Enjoy your stench freaks!
If you are one of those men who only like hairy pussies and small labia you might have another reason for your bizarre preference. Maybe you just don't like vaginas to begin with and it might be a good idea to re-evaluate your sexual orientation. I once knew a grumpy guy who only wanted to have sex with girls who had a bushy vagina. I asked him why and he answered "Because I hate to look at the lips and the hole!" Four years later I met him again and he told me that after all he had realized he was gay. Now he is a happier guy because he doesn't have to lick "women's lips and holes" anymore.
Some straight men however have a true preference, even a desire, for hairy vaginas. It's not fair to bash those men and spoil all the rest of you with pictures of bald pussy. In case you are among those men, I have a disgusting picture for you, just the way you like it.