Although women are excited by the view of large quantities of sperm, the real benefit is that by shooting more sperm your orgasm lasts longer. Nothing better than feeling the endless sensations of spurt after spurt of semen pumping through the core of your penis!
Eating some smoked oysters everyday is a good way to start. It will increase your semen volume because of the natural form of zinc they contain. However, zinc only works on the prostate gland, which accounts for just 30% of the total semen.
Another trick is to splash cold water on your testicles everyday (for instance right after your shower in the morning). This will stimulate the blood supply and cool off the scrotum, thus increasing sperm production.
Taking a supplement like Semenax (semenax.com) in addition to your healthy diet will drastically improve the results, because of the right proportion of the two amino acids L-Arginine and L-Lysine, zinc oxide and some other power ingredients (like horny goat weed). Together they work on all glands responsible for the semen production (see table above). Horny goat weed is said to also stimulate the Cowper's glands, which produce the pre-cum. (be careful: too much of it can turn your penis into a cum leaking faucet!)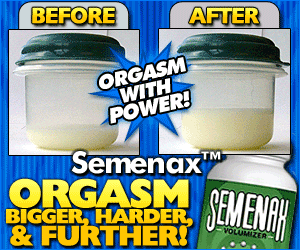 Research found that Soya products, like Soya milk and Soya protein can mimic the female hormone estrogen. A little of these probably won't harm but if you are a vegetarian and using them as the main source of protein, then don't be surprised if your volume of semen is low. On the other hand, eating products high in natural testosterone (like bull's testicles... yuk!) will boost your semen volume. Injecting yourself with anabolic steroids will do the same. Girls who have dated bodybuilder wanabees told me that these guys shoot enormous amounts of semen while they're on steroids. The problem is that once they stop taking it, their testicles shrink and their ejaculations become rather pathetic.
All your efforts or money will be wasted if you don't keep yourself well hydrated! Forget about the soft drinks however. Stick to a lot of water and some fruit or vegetable juices. Also, reduce your smoking habits and alcohol intake.
And of course: don't ejaculate everyday! Let it build up for a day or three-four.
Dude, that's a lot of sperm!
Warning
Avoid STDs or Unwanted Pregnancies:
If you are going to increase your semen, be advised that the risk of braking a condom during sex also increases. Leave at least a half-inch space at the tip to collect ejaculate and pinch the air out of the tip. This will avoid accidents like bursting or overflowing of the condom due to the excessive amount of ejaculate liquid.
Increased semen production usually causes stronger, longer and farther ejaculations. If you are a strong ejaculator or intend to become one, then buy condoms that are strong enough to withstand the repeated spurts of your forceful blasts. Also, using a condom that is wider at the top than in the middle will help to absorb the extra pressure of the large amount of sperm.
You could of course avoid the problem by simply pulling your penis out of her vagina before your orgasm. This is a good time to show-off your powerful sperm blasts! Just remove your condom and release your massive amounts of penis juice over her body and, if she doesn't mind, her face. If she loves you then most likely she will relish in it in ecstasy.