Other Factors Affecting A Woman's Orgasm

A woman's ability to reach orgasm is not always the same day by day. For penetration purposes, a woman will sometimes not prefer a bigger penis on certain days.

Be hard and move it right
Besides penis size, there are two more aspects influencing women's vaginal pleasure. There is penis hardness and there is of course style of motion (screw technique). If you don't have a truly hard erection, it is difficult to bring your girl to orgasm with your penis alone. And if you don't know how to move then forget about bringing her into ecstasy. Although this report is not about love techniques and positions etc., I do discuss a few things worth paying attention to when having sex with a girl. More about this on page 51 Some Advice For Well Endowed Men.

Emotional involvement
Another factor that affects the power of her excitement and orgasm is the level of involvement a man has with her. If she is deeply in love with him and he feels the same for her, and whether big or small he boasts good technique and has interest in her body, chances are she will experience much more fulfilling orgasms and pleasures than if they are not feeling this way for each other.

Women like variety
However, don't think women always need mushiness and tender love to climax the best. The main point is that women like variety. A few women confessed to me that most of them have sex cravings in which they fantasize about being taken by a rugged, well-endowed masculine man. Women love the feeling of being conquered and ravished. Book covers of women's love stories usually depict a woman being ravished. The desire to be ravished explains also why women love to have intercourse standing up.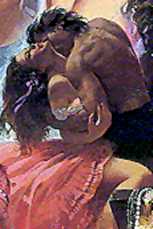 All this talk about women requiring big penises might give some men the wrong ideas about women. If you are a smaller sized man and you want to get over your complexes and get some great sex in your life, you have to respect women. This doesn't mean that you have to exaggerate your affection. They don't like weak acting softballs either. Just be a man. Respecting them also means respecting them for their right to prefer certain penis sizes. They don't have this preference to hurt you or any other man. I mentioned it before but it bears repeating: it is just a natural thing caused by physical sensations and primal instinct.
If you have anxiety when interacting with women and are bothered by fear of rejection then most likely you have other complexes than your penis size. Stop reading this penis stuff and go visit my page about how to destroy fear of rejection instead.